The Tour de France is the third most-watched sports event in the world, after the Olympic Games and the World Cup. Even for those who aren't sports fans, the Tour is a spectacle that is unmatched anywhere in the world. From the publicity caravan that tosses out souvenirs, to the passionate fans, it is no wonder this cycling race has stood the test of time for over a century. 
Join us in Trie-sur-Baïse on 26 July 2018 as we make our debut as a host of the Tour de France and open our arms to the cycling teams, to you, and to spectators around the world. 
Here's our guide to experiencing the departure of stage 18 of the Tour de France from Trie.  If any of your questions aren't answered here, just get in touch with us on our Facebook page and we'll try to help.
When should I arrive?
Official entertainment is kicking off at 10:30 in the Place de la Mairie (the central square) and will be going on throughout the day in the centre of town.  The riders will depart at 13:50, although they'll be arriving well in advance. 
There will be rolling road closures the entire route from Trie to the finish in Pau, so that's another reason to arrive early. Parking will be plentiful (and free) on the outskirts of Trie however parking within the town limits will be limited. For visitors with limited mobility, we will have information about designated parking closer to the date. Regular updates will be made on our Facebook page Le Tour de France 
What will the weather be like?
We aren't psychics, but we are in the south of France, so we can tell you that it will probably be beautifully sunny and very warm. 
What should I wear?
We suggest practical shoes that are comfortable and a hat to protect you from the sun. Otherwise, we wouldn't be averse to you wearing something outlandish.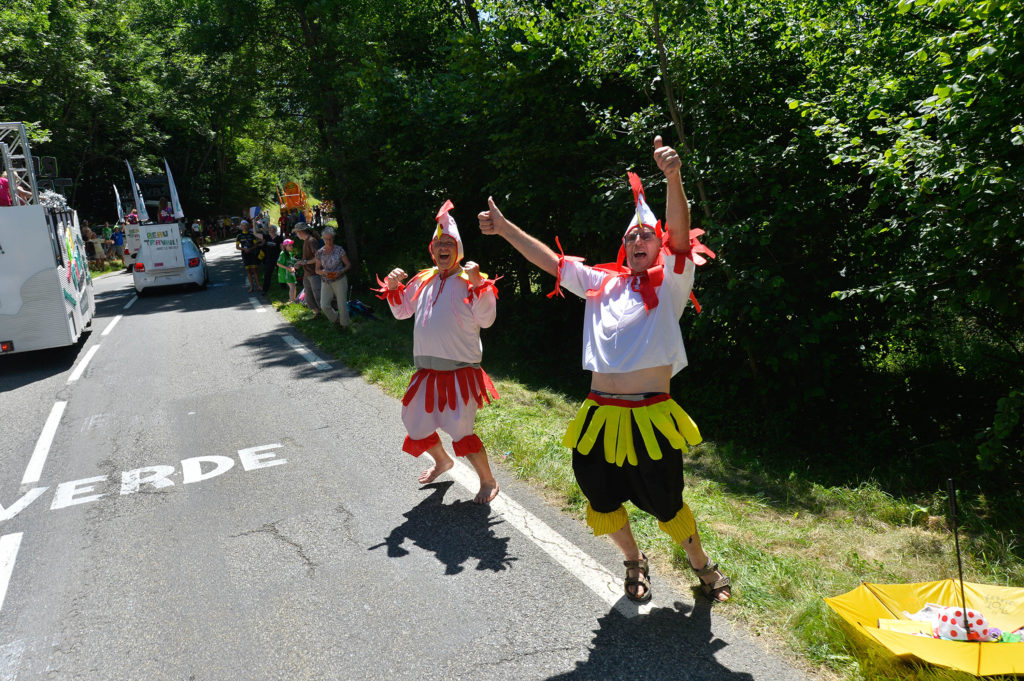 Don't forget to bring sunscreen, however if you forget it, you can pop into the local pharmacy to buy some.
Where can I find a place to stay?
There is a hotel in Trie as well as many gîtes, chambres d'hôtes and chalets in the area. Campers with camping cars or caravans can park up in nearby Lubret St Luc. You can find more information about local accommodation from the CCPTM (Communauté de Communes – Pays de Trie et du Magnoac).
Where can I eat in Trie-sur-Baïse?
The following restaurants in Trie are ready to serve you:
Au Petit Creux
34 place de la mairie (in the centre of town)
Tel:  05 67 45 58 88
Le Coin
Place de la Mairie (in the centre of town)
Tel:  05 62 35 59 26
Café Le Sport
Place de la Mairie (in the centre of town)
Tel: 05 62 35 50 04
Café Restaurant de la Paix
Rue des Monts de Bigorre (next to the covered halle)
Tel: 05 62 35 61 11
L'Epi'zzas
Route de Tarbes (near the Intermarché)
65220 Lalanne Trie
Tel:  05 62 35 45 17
Ferme Auberge du Lac
41 Route de Castelnau
65220 Puydarrieux (a few minutes from Trie)
Tel: 05 62 35 54 92
L'esquiròu (campground with water, disposal and electricity)
65220 Vidou
Tél : 05 62 35 45 02
The day of the Tour, local clubs and associations will be selling sandwiches and snacks. If you get a sandwich, we suggest you try a speciality of the south west of France called ventrèche, a salt-cured and flavourful bacon. It's delicious! Although the sausage is also great…
Our « village gourmand » will be at the rugby stadium all day, featuring local specialities for lovers of South Western cuisine to take home.
Where do I park?
Parking in and around Trie will be clearly signposted. More details, including a map, to come.
Is there anything else I should know?
Yes. 
Just a few tips to make it a great day for everyone, including the riders:
If you must bring your dog, it must be on a lead and under control at all times.

Don't use flares, smoke bombs or anything else that can impair the riders' vision or inhibit their breathing.

Once the caravan and the race get going, please make sure your children are well clear of the roadway.

Give the riders plenty of space to manoeuvre.